SANDPIPER DESIGN IS THE ONLINE STUDIO OF STEVEN WOJTYNEK, AN ARCHITECTURAL DESIGN AND CONSTRUCTION DOCUMENTATION VETERAN WITH NEARLY FOURTY YEARS OF SERVICE TO AWARD-WINNING FIRMS THROUGHOUT THE COUNTRY... PROVIDING CONSTRUCTION DESIGN, DETAILING, AND AUTOCAD / REVIT DRAFTING SERVICES LOCALLY TO PROPERTY OWNERS AND TO GENERAL CONTRACTORS IN SOUTHERN CALIFORNIA. SANDPIPER DESIGN ALSO PROVIDES CONSTRUCTION DOCUMENTATION ASSISTANCE AND A WIDE VARIETY OF PRESENTATION TECHNIQUES TO REGIONAL DESIGN PROFESSIONALS VIA THE INTERNET.

THROUGHOUT MY CAREER, MY PRIMARY EXPERIENCE NICHE (AND FAVORITE JOB DESCRIPTION) HAS BEEN AS THE "PROJECT JOB CAPTAIN"... THE PERSON WHOSE RESPONSIBILITY IT IS TO "TAKE THE REINS" IN THE COORDINATION OF A PROJECTS DEVELOPMENT AND DOCUMENTATION FROM EARLY DESIGN SKETCHES (USUALLY INITIATED BY THE DESIGN PARTNERS IN THE FIRM), TO REFINED 2D / 3D PRESENTATION MATERIALS (USED FOR CLIENT REVIEW AND MARKETING), TO HIGHLY-COORDINATED AND SENSITIVELY-DETAILED CONSTRUCTION DOCUMENTATION REQUIRED FOR BID DOCUMENTS AND CITY AGENCY REVIEW AND APPROVALS.

AS YOU WILL SEE IN THIS RESUME, THE SCOPE OF THE PROJECTS I HAVE BEEN INVOLVED WITH RANGE FROM LARGE TO SMALL... EVERYTHING FROM UNIVERSITIES, HIGH SCHOOLS, AND HOSPITALS... TO HIGH-RISE OFFICE BUILDINGS AND AIRPORT TERMINALS... TO LARGE AND SMALL RESIDENCES AND RESIDENTIAL / COMMERCIAL REMODELS.


I AM AVAILABLE TO WORK WITH YOU L0NG-DISTANCE VIA THE INTERNET, AND LOCALLY, I AM AVAILABLE TO WORK ALONGSIDE YOUR PRODUCTION TEAM IN YOUR OFFICES. PLEASE CALL, WRITE, OR EMAIL ME TO DISCUSS YOUR DESIGN, PRESENTATION, OR CONSTRUCTION DOCUMENTATION NEEDS.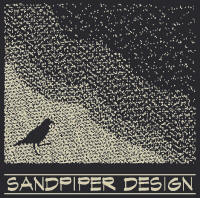 858-240-7870

P.O. BOX 270471
SAN DIEGO, CALIFORNIA 92198

STEVE@SANDPIPERDESIGN.COM

RETURN TO HOME PAGE