SANDPIPER DESIGN IS THE ONLINE STUDIO OF STEVEN WOJTYNEK, AN ARCHITECTURAL DESIGN AND CONSTRUCTION DOCUMENTATION VETERAN WITH OVER FOURTY YEARS OF SERVICE TO AWARD-WINNING FIRMS THROUGHOUT THE COUNTRY... PROVIDING 2D DESIGN AND CONSTRUCTION DOCUMENTATION USING AUTOCAD / REVIT, QUALITY 3D COMPUTER MODELS, ARCHITECTURAL RENDERINGS AND ANIMATIONS USING ACCURENDER AND/OR LUMION.

MY PRIMARY CONSTRUCTION EXPERIENCE NICHE (AND FAVORITE JOB DESCRIPTION) HAS BEEN AS AN ARCHITECTURAL "PROJECT JOB CAPTAIN"... THE PERSON WHOSE RESPONSIBILITY IT IS TO "TAKE THE REINS" IN THE COORDINATION OF A PROJECTS DEVELOPMENT FROM EARLY DESIGN SKETCHES (USUALLY INITIATED BY THE DESIGN PARTNERS IN THE FIRM), TO REFINED 2D / 3D PRESENTATION MATERIALS (USED FOR CLIENT REVIEW AND MARKETING), TO HIGHLY-COORDINATED AND SENSITIVELY-DETAILED CONSTRUCTION DOCUMENTATION (REQUIRED FOR BID DOCUMENTS AND CITY AGENCY REVIEW AND APPROVAL).

SINCE 1985, MOST OF THE WORK I'VE COMPLETED HAS BEEN DONE IN AUTOCAD... 2D AND 3D. I SERVED AS CAD MANAGER AND PROJECT JOB CAPTAIN AT TWO LARGE FIRMS... NTD ARCHITECTS - SAN DIEGO, AND OLSON SUNDBERG KUNDIG ALLEN - SEATTLE (NOW OLSON / KUNDIG). AT THESE FIRMS I WORKED ALONGSIDE THE PARTNERS AND PRODUCTION HEADS TO COORDINATE AND DEVELOP CONSTRUCTION DOCUMENTATION TECHNIQUES, CAD STANDARDS, AND CUSTOM ON-SCREEN AUTOCAD SHORT-CUT MENUS AND CAD MANUALS. THE GOAL OF THIS WORK WAS TO ENABLE A VARIED WORK STAFF (USUALLY CONSISTING OF EXPERIENCED PROJECT ARCHITECTS AND SHORT-TERM INTERNS) TO BE ABLE TO WORK SIDE-BY-SIDE TO QUICKLY DEVELOP AND DOCUMENT THEIR AWARD-WINNING DESIGNS WHILE ADHEREING TO THE HISTORIC PRODUCTION STANDARDS OF THE FIRM.

MY BUSINESS PLAN IS TO PROVIDE DESIGN ASSISTANCE, AUTOCAD / REVIT CONSTRUCTION DOCUMENT SERVICES, 3D COMPUTER MODELS, RENDERINGS, AND ANIMATIONS TO PROPERTY OWNERS, DESIGN-BUILD CONTRACTORS, AND TO OTHER DESIGN FIRMS WHO SEEK TO USE THE LATEST TECHNIQUES TO DEVELOP, PRESENT, AND DOCUMENT THEIR COLLABORATIVE DESIGNS.

I AM AVAILABLE TO WORK REMOTELY VIA THE INTERNET, OR AS FULL OR PART-TIME AUTOCAD / REVIT DRAFTING STAFF TO ARCHITECTURAL AND MEP ENGINEERING FIRMS IN NEED OF ADDITIONAL MANPOWER.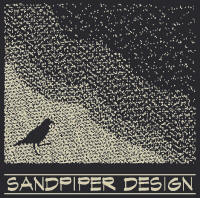 858-240-7870

P.O. BOX 270471
SAN DIEGO, CALIFORNIA 92198

INFO@SANDPIPERDESIGN.COM

RETURN TO HOME PAGE